Construction Services
Carpentry
Remodeling
Flooring
Exteriors
Carpentry
---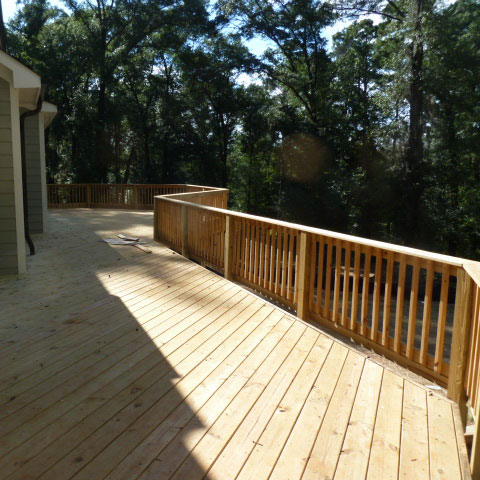 Decks, arbors, pergolas, and outbuildings.
We create custom deck and arbor plans to match your needs and the style of your house. We will work with you to create the perfect spot for family gatherings, barbecues, outdoor events, and just plain relaxation. Or if your garage is so full that there's no room for your car, we can help you design a shed or workshop to fit your needs.
Trim work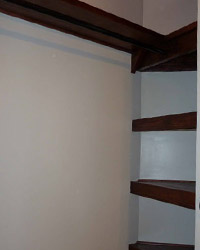 They say the devil is in the details, and that's never truer than when you're talking about putting up trim. The difference between a beautiful house and one that looks sloppy or poorly built has a lot to do with the time and effort the carpenter spends installing the baseboards, casings, and crown moldings. Get it done right the first time.
Closets
Do you need more space for your stuff? We can add a new closet to any room or remodel an existing closet with shelves, hang up bars and drawers to fit your needs.
Remodeling
---
Kitchens
Whether you dream of a completely new kitchen, or you just want your existing kitchen updated with new counter tops, tile, or finishes give us a call and we'll help you find a solution to fit your design and budget needs. We install cabinets, counter tops, sinks, appliances, tile backsplashes, etc.
Bathrooms
Everyone knows that bathrooms are important, but did you know that they are the most difficult room in the house to design and remodel? With pipes, drains, all manner of lights, extraction fans, outlets, tubs, toilets and sinks put together in one small room, not only does everything have to fit but it has to be comfortable and beautiful as well. We specialize in completely remodeling bathrooms –changing the layout, moving walls to create more space, and installing showers, tubs, and other fixtures.
Changes to home floor plans
Is the master bedroom too small in your house? Or would you like to connect the adjacent coat closet and bathroom to give you some much needed bathroom space? Are your hallways too cramped and your living areas too closed-in? Whether it's putting up walls or tearing them down, connecting rooms or closing off doorways, we can help make your house fit your personalized needs.
Finishing garages, basements, or attics
Did you know that one of the best investments you can make in your home (along with updating the kitchen and bathrooms) is to finish your garage, basement, or attic? Not only will you gain more living space, but as the finished square footage of your house goes up, so does the appraised value of your home.
Floors
---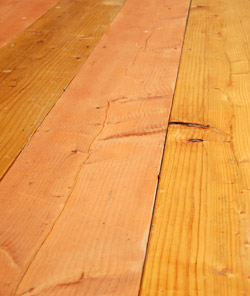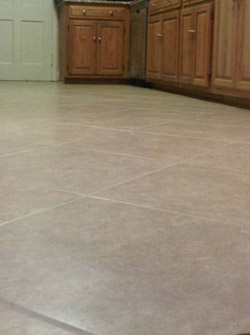 Installation of hardwood & laminate flooring
We install all types of hardwood, engineered hardwood, and laminate flooring. Leave the job to the pros and get it done right! Installation prices are quoted per square foot so you can get an accurate comparison and so you can walk away with a smile on your face knowing that you got a good deal.
Refinishing hardwood floors
We refinish hardwood floors that are scratched, worn, or damaged.
Tile work
Tiling your bathroom or kitchen floor is one of the best decisions you can make when remodeling your home. Not only does it provide an extremely durable, easy to clean, waterproof surface to walk on, but it gives your home a beautiful high end look without breaking the bank. We install tile on floors, walls, countertops and backsplashes, and prices are quoted by the square foot. We guarantee that not only will you be satisfied with the job, but you'll get some of the lowest installation prices available.
Exterior
---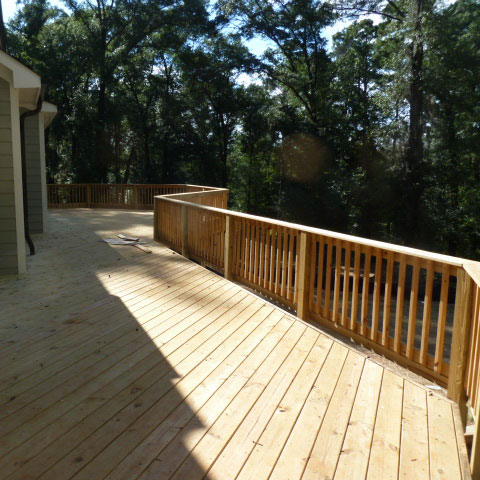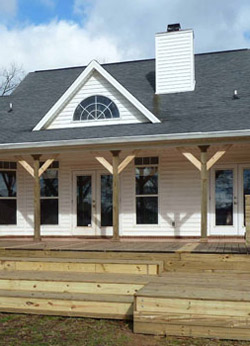 Interior and exterior doors and windows
Sometimes all that's needed to give an older house a face-lift is a set of new doors or windows with matching hardware.
Vinyl, wood, and cement board siding
From repairs to installing new siding, we have your siding needs covered.
Painting and prep work
Whether your whole house needs painting, or just a wall or two, give us a call for a free estimate. We do all the prep work of sanding, scraping, priming, and painting. We're take pride in doing a neat job that will make your house look good, and we do it without making a mess!